The Insulator House of Galloway
We met with Stanley Hammell, whose collection of vintage glass telegraph wire insulators may be the largest on the east coast–certainly the largest in New Jersey.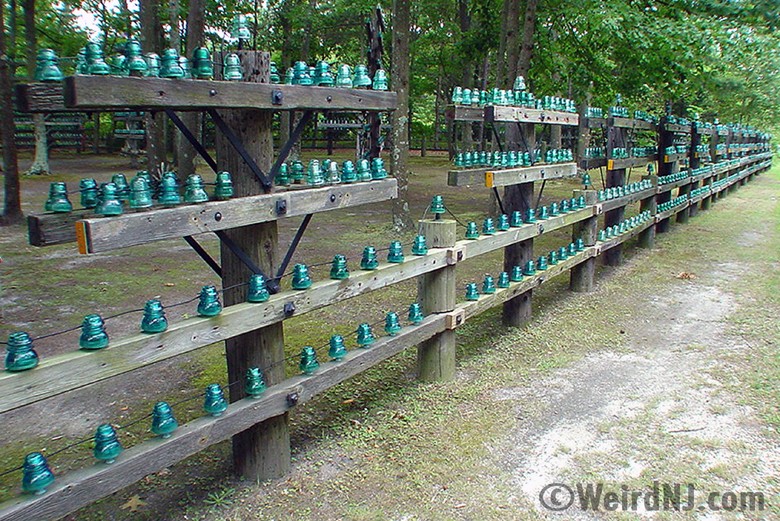 "Do you think we'll be able to spot the Insulator House?" I asked Mark M. as we pulled off the road and parked in front of what looked to be thousands upon thousands of glass jars lining the wooden fence posts along Jimmy Leeds Road in Atlantic County.  Sparkling like diamonds in the bright sunlight, the gleaming blue-green orbs seemed to stretch as far back down the road as the eye could see.
"It looks like some sort of power station," Mark observed. "I think we might have found it."
New Jersey has some rabid collectors. Some like to display their finds inside display cases and cabinets, while others make their collection a part of their day to day environment. We met with Stanley Hammell this past summer, whose collection of vintage glass telegraph wire insulators may be the largest on the east coast–certainly the largest in New Jersey. Most of Stanley's collection has been gathered from walking along old railroad tracks, and poking around the fallen telegraph poles that once networked our 19th Century communications.
Strolling around Stanley's property, you can see the intense labor and thought he has put into his personalized property of "crown jewels," the term used for these glass collectibles. The crystal blue and green insulators are mounted on telephone pole-like posts with numerous crossbeams, that Stanley has planted himself throughout the property. The whole yard looks like a lineman's version of a Christmas wonderland.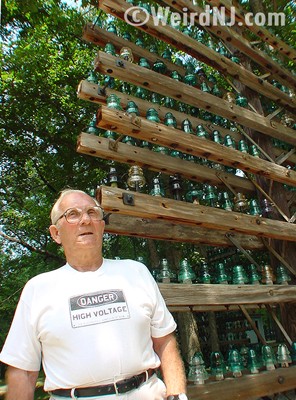 "In the days of Morse Code, these insulators transported the 'dot-dash' that ran along the wires. They had to insulate the wire from the wood. That was the insulator's main purpose," said Stanley. Mr. Hammell's started his collection fifteen years ago when he retired. "Kids from the college (Stockton State) will stop by and ask 'What are they?' I have a lot of people stop and ask about them. Many people have these insulators, but few choose to display them. Some are so rare, they can fetch about $20,000 at auction. The color was determined by where they were made. Different sand produced a variety of colors. Believe it or not, there are guys who have many more than I do, I just show them more."
Thank you Stanley, we're glad that you do!  –M.S.
Weird NJ featured articles about the insulator house in issues 17 and 18, and in the Weird NJ book.
UPDATE! Read all about what Stanley is up to these days in this August 2012 article.
SAD NEWS: Stanley E. Hammell, 89, of Galloway, died Thursday, November 29, 2012, at his home, surrounded by his family. Born in Pleasantville, he lived in Absecon before moving to Galloway 50 years ago. Mr. Hammell served in the Army Air Force during World War II, attaining the rank of Staff Sergeant. He was a recipient of the Distinguished Flying Cross. He worked as a carpenter for many years with Local 623 in Atlantic City before his retirement in 1985. One of his favorite hobbies was collecting glass insulators.
This Internet story is only a small excerpt of the information we have published on this subject. For the full story we suggest you refer to past issues of Weird NJ Magazine.  To keep up to date on this story and all the other weird goings on in the state subscribe to Weird NJ and we'll deliver it to your door. If your local book seller, newsstand or convenience store doesn't carry Weird NJ, just tell them to call us toll free at 1-866-WEIRDNJ and we'll be happy to stock your favorite store for you.