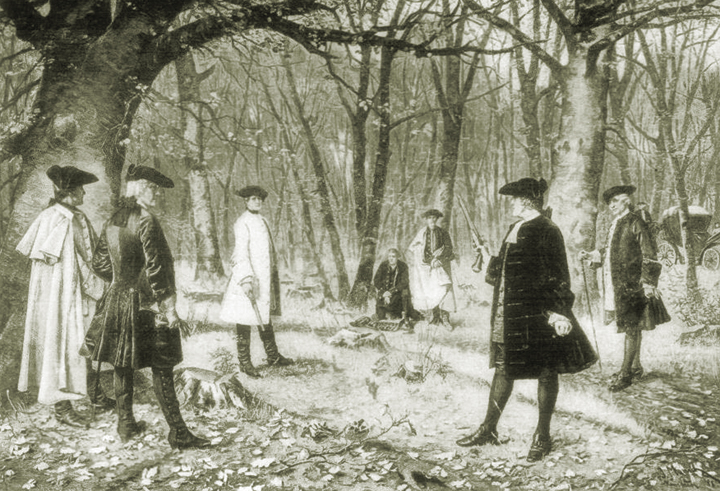 Perched high atop the Weehawken Palisades, before the panoramic backdrop of the Manhattan skyline, is a grim reminder of the tragic death of one of this country's great Founding Fathers — Alexander Hamilton. It was on this spot that the United States' first Secretary of Treasury was shot dead by his political rival, personal enemy, and Vice President of the United States, Aaron Burr. On the morning of July 11, 1804, at seven am, the two men traveled across the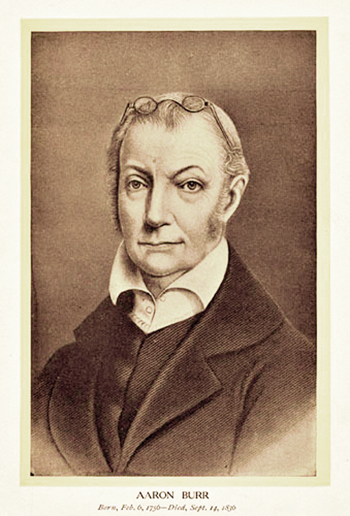 Hudson to meet each other on the rural Jersey side of the river. Standing at the customary ten paces, near the edge of the rocky precipice, and holding the hair trigger pistols, which Hamilton had provided, the dueling diplomats faced off. According to witnesses, Hamilton, who fired first and missed, was not even aiming at his opponent. Burr, on the other hand, was most surely aimed at Hamilton. The ball, traveling at about six hundred feet per second, entered the Federalist leader's abdomen just above the hip. It then struck a rib and proceeded through his liver and diaphragm, then splintered a vertebrae at the base of the spine, paralyzing his lower extremities.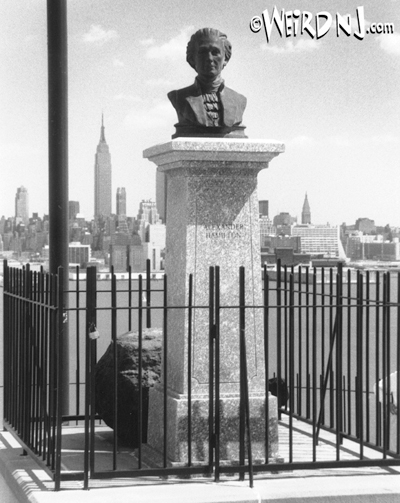 Present at the duel was Hamilton's physician and friend, Dr. David Hosack, to whom the fading statesman reportedly uttered the prophetic words, "This is a mortal wound, Doctor." Hamilton was ferried back to Manhattan where, after an agonizing thirty-one hours in bed, he bid a heartfelt farewell to his wife and children, and died.
Today, in the Weehawkin Park that bears his name, a bronze bust of Hamilton sits atop an engraved marble pedestal. But more interesting than that is the large, red sandstone boulder which sits unceremoniously behind the formal monument, and bears the inscription: "Upon this stone rested the head of the Patriot Soldier, Statesman, and Jurist Alexander Hamilton after the duel with Aaron Burr."