Mighty Joe's Journey from the Shore to Shamong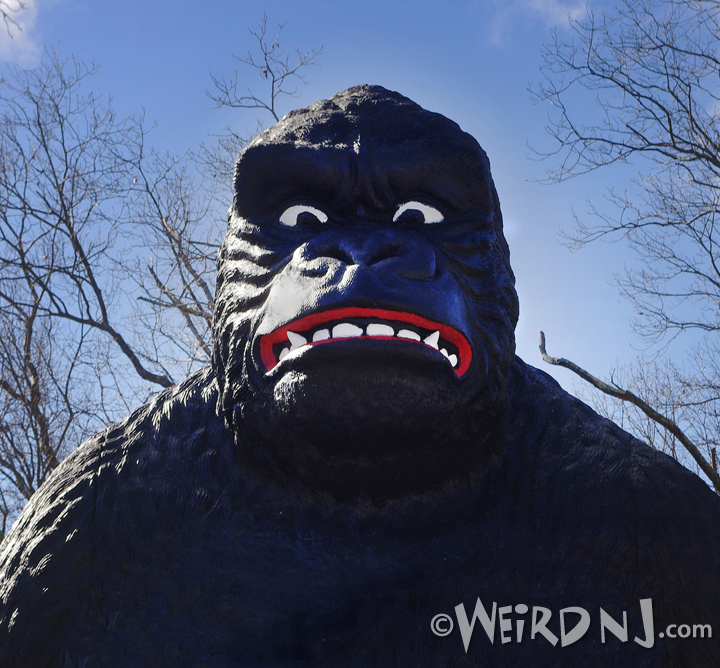 It certainly is a weird and puzzling sight to see in the rural Burlington County town of Shamong; a giant black gorilla skulking at the side of the road, scowling menacingly at passing motorists traveling along Route 206. Standing there, at the edge of the parking lot for a gas station and deli, his massive arms outstretched, he appears to have just emerged from the forest behind him intent on wreaking havoc on an unsuspecting public.
The big ape is really nothing to start a widespread panic about however, as he is a mere hollow fiberglass shell and not an actual Kong. The monstrous monkey goes by the name of Mighty Joe, as in the post King Kong giant ape movie "Mighty Joe Young," released in

 1949. The gargantuan gorilla stands as a mascot for its namesake gas station and deli, Mighty Joe's. That was not always his name however; some older readers might remember him better by one of his previous monikers, like 'Kongo-Pongo' or 'Magilla,' from the days when he stood as an amusement on the seaside boardwalk in Wildwood, NJ. Others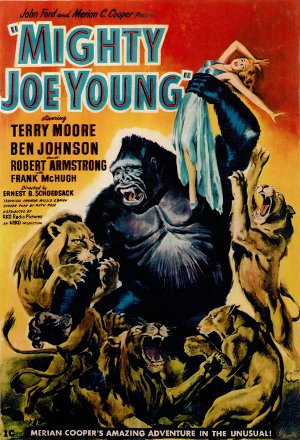 might know him as 'George' from the days when he lorded over a go-kart track at the now defunct Island Family Fun Park, located on Route 47 just across the George Redding Bridge from Wildwood.
But just how did a 25-foot tall grimacing gorilla make its was from the South Jersey Shoreof Cape May County all the way across the Pine Barrens to Shamong? To answer that question Weird NJ asked a man named Larry Valenzano, the current owner of Mighty Joe's Gas, Grill & Deli, and of the great ape himself. We sat with Mr. Valenzano at a table at his roadside eatery to get the story behind his simian colossus.

"We have our summer home down the shore in Wildwood Crest, and every time I'd go down there I'd see this gorilla on the way in Rio Grande, and it reminded me of my son, Joe, who was a body builder," Mr. Valenzano told us. Tragically, Larry had lost his son Joe a few years earlier when he died of a brain tumor while in his 20's. The Valenzanos were heartbroken by the loss, but that's when an idea came to Larry of a way that he could create a lasting tribute to the memory of his son Joe. "So one day I said to my wife, 'I wanna buy that gorilla, and we'll rename our station Mighty Joe's.'"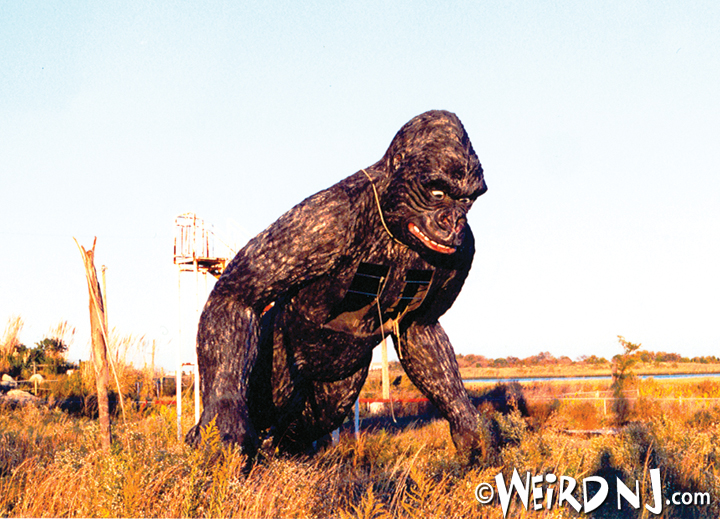 "The gorilla had fallen over, it had broken ankles, a broken wrist; it was in dire need of repair. There was a gas station right next to this go-kart track, so I went in there and asked for the owner. I went into the office and I met a man named Sam and said to him, 'I'd like to buy your gorilla,' and he said, 'Well, he's for sale.' So I said 'how much do you want for it?' and he said, 'How much do you want to give me for it?' I said, 'I'll give you $2,000.' He

 said, 'Well, I was offered over $10,000 for it, and I refused that. Why do you want it?' And I had told him that I had lost my son, and he was a body builder and we used to call him Mighty Joe once in a while, because he'd walk around like a big gorilla."By that time in the early 2000's the go-kart park had closed and was being reclaimed by nature––yet George continued to stand all alone out in the sunbaked overgrown fields, towering over the abandoned go-kart track. Then a storm severely damaged the behemoth statue. The gorilla's feet and ankles seemed to no longer be able to support him and he was pitched forward, his weight resting on his fisted paws––the only things that stopped him from doing a face-plant right into the sandy ground.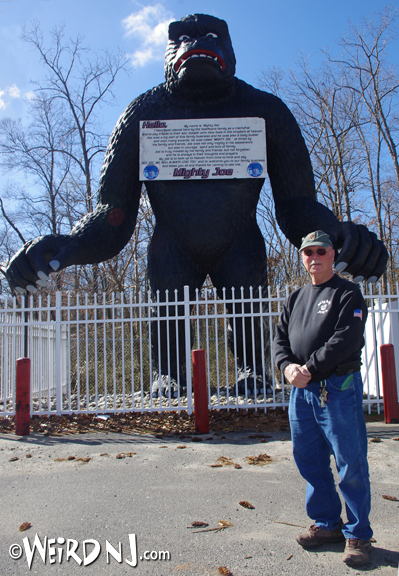 At this point in the conversation Mr. Valenzano paused for a moment, visibly emotional over the memory of his late son. Even after nearly twenty years his fatherly grief was still difficult for him to contain. He removed his glasses, and dabbed his eyes with a napkin he drew from the dispenser on our table. After regaining his composure, he continued.
"So I explained why I wanted it, and he said, that he'd been offered a lot more, so I left. If it wasn't meant to be, it wasn't meant to be. Then I got a call from him a week or so later, and he said, 'Can you stop in next time you come down?' So I did. I owned a gas station, he owned a gas station––he was a nice Italian man, I'm Italian. And he said, 'Ya know, I have a lot of money. And I like what you want the gorilla for more than what any of these other people want it for. So I'm going to sell it to you for $2000.' He asked if I had any way of transporting it and I said no. So he said, 'Okay, I'll take care of that too.' He had someone come with a tractor-trailer, took the arms off, brought the arms up here one day and the rest on a second trip."
Mighty Joe was in pretty sorry shape when he first arrived at his new home in Shamong, but the Valenzanos had local craftsmen re-weld its interior steel frame, reinforce the

fiberglass on the legs and the broken wrist and give the giant primate a fresh coat of paint. Once upon a time, in his former occupation as a boardwalk attraction in Wildwood, a stairway behind the gorilla led through a door in its back, and to two sliding boards that were attached to its chest. Larry told us that he still has one of the slides set up at his home, where his grandchildren play on it all the time.
Over the two large wholes in the ape's chest where the sliding boards were once placed,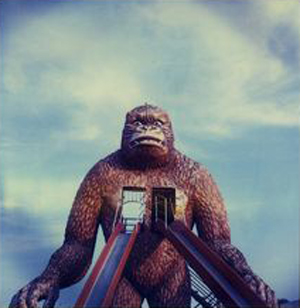 Larry affixed a sign bearing a tribute to his lost son that explains his story for all who stop to see. And Larry tells us people stop all the time to gaze in wide-eyed wonder at Mighty Joe and to take pictures.
"We had a fella stop here one day who said that he was involved in the sale of it when it was shipped over here in the 1960's from Spain, where it was made, and that they paid $50,000 for it at the time."
We asked Larry if there was any kind of fund set up in his son's honor that folks who were moved by his story might be able to contributed to.
"We're going to put a box out there for donations for the Brain Tumor Foundation," he said, "because people come in here giving us money. I own the property across the street and once a year we have a fundraiser there in September, a car show, and all the proceeds go to Brain Tumor Foundation."
Directly across Route 206 from Mighty Joe's is a vast expanse of open land where the Valenzano family operates V&V Adventure Farm (www.vvadventurefarm.com), a multi-purpose property that offers a variety of activities such as pumpkin picking, a corn maze, haunted hayrides and other seasonal attractions.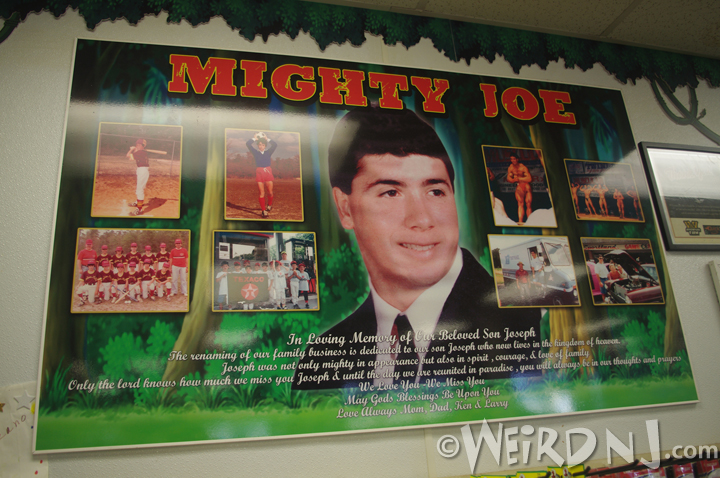 Before we ended our interview with Mr. Valenzano he walked us across the deli to where a large full-color placard hung on the wall above some shelves containing fishing tackle. The display bore the headline "Mighty Joe" and featured the portrait of a strapping young man in the center, his smiling face full life and promise. Framing the photo were snapshots of him from his boyhood days on Little League baseball and soccer teams, and flexing his taut, well-defined muscles on stage during body building competitions when he was older. As we stood beneath the loving memorial and thanked Mr. Valenzano for his time, we asked if there was anything else that he'd like to add before we said our goodbyes. He paused for a moment, staring up at the images of his son Mighty Joe in quiet reverie, then, as if speaking only to himself and the heavens, he said softly, "He was a good boy."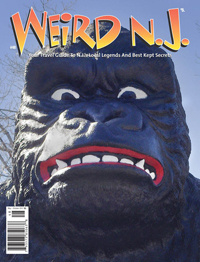 The preceding article is an excerpt from the new issue of Weird NJ magazine, #48 which is available now on newsstands throughout the state and on the web at www.WeirdNJ.com and through our Amazon store.