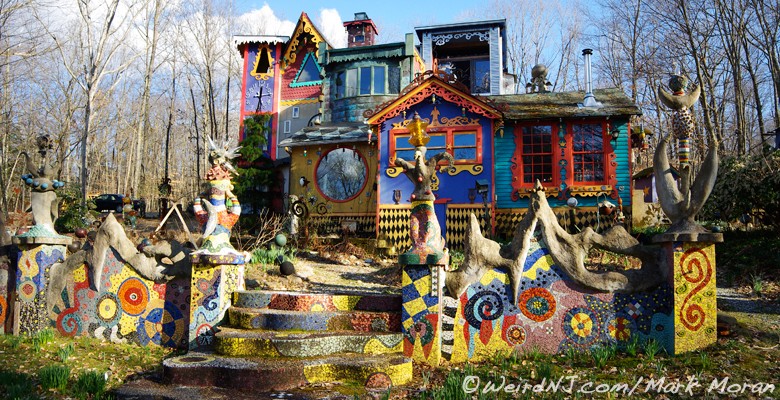 As we wound our way through the forests and farmlands of the Sussex County countryside, Mark and I wondered why Ricky Boscarino, owner of "Luna Parc," decided that this remote locale would be the perfect place to create his own unique environment. We've visited Luna Parc several times over the past dozen years or so and it is always a thrill to see just how much it has continued to grow in new and fascinating ways with each visit we make. And it is always a real pleasure meeting Ricky, the mastermind behind this environmental madness.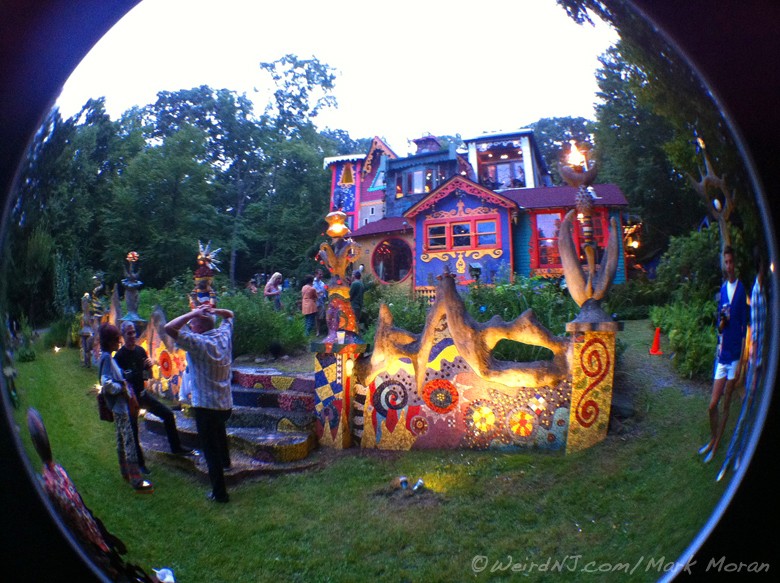 Upon entering the gates to Luna Parc, you are awestruck at the immensity of the project Boscarino has been building in the woods for all these years. The front yard is awash in brilliantly colored sculptures, walls and spires. Everything is encrusted with swirling mosaics of tile, glass, concrete and painted metal. The house itself sits above the terraced yard looking like a technicolor gingerbread chalet in a psychedelic fantasy land.
Ricky, the proud creator of this unique home, is friendly and easy-going and always willing to give us a tour of the newest additions he has made to his one-of-a-kind-eastate in progress. We asked him how he first found the property.
"I grew up in Piscataway and I used to go to summer camp at Stokes, so I kinda knew the area a little. I started a jewelry business in 1986 and I was looking for a place of my own. I really just stumbled upon this place after pounding the pavement for about two years. It was an old hunting lodge, and the family that owned it hadn't even been here for about ten years."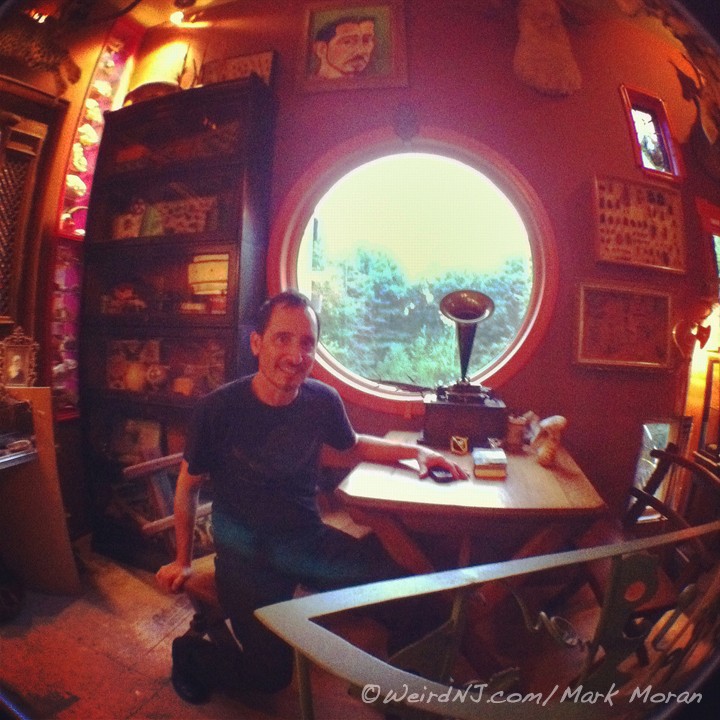 "Structurally it was fine, but it had to be rewired, etc. I should have knocked it down, but I needed a place to live! As soon as I walked up the driveway, I knew I would be here the rest of my life. My first vision was the round window. I started ripping shit out of the house from day one, and it's been non-stop. Everything started to radiate from the house."
The house is surrounded inside and out by whimsical multi-media art projects in various states of completion. Most are made entirely by Ricky's own hands out of found objects, such as glass bottles, yardsticks, corks, bottle caps, stones, and other collected or donated materials. One of the outlying buildings in the front yard is a hut fashioned from thousands of brilliant blue glass bottles.
"Some are the Sky Vodka bottles and others are Arizona iced tea," Ricky told us while scrounging through the pile recyclables. "Whenever I have an event here, I always get donations of various stuff I ask for. This project will be made entirely of blue glass bottles, which are the hardest to come by. I originally estimated I'd need 1,500 bottles to complete it, but now it looks like I'll need about 3,000. And I didn't drink even one of them!"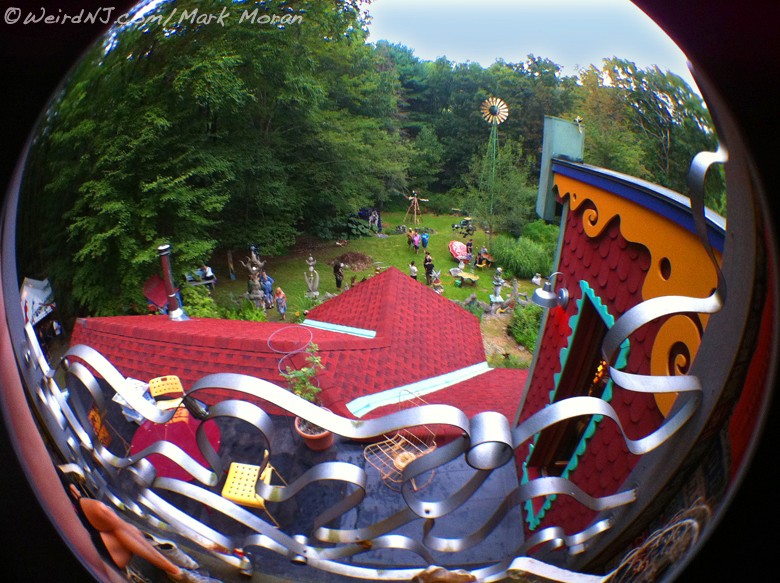 The 5-acre property is covered with an array of eclectic buildings and displays. A walk through the back property reveals more work-in-progress spread out amongst the trees and shrubbery. Walking amidst the trees and scattered sculptures, old movie set props and odd junk yard finds, we come to a chapel that Ricky has built as an homage to his grandfather, who, Ricky told us, once witnessed a miracle in Sicily.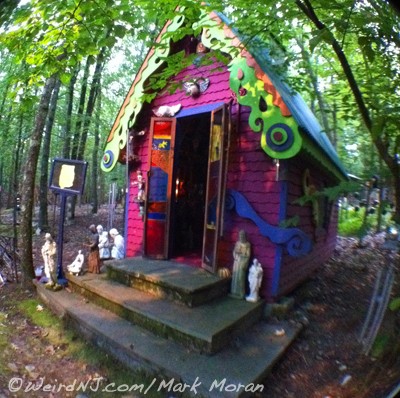 "That's where the crutches come in," said Ricky, pointing to a dozen crutches leaning against a tree. "Kind of like 'Catholic kitsch.'"
What we came across next were hundreds of empty Mrs. Butterworth glass bottles set into concrete blocks.
"This is going to be a nine-foot replica of Mrs. Butterworth built out of blocks which will be illuminated from the inside. Actually it's almost better describing what its going to look like than what it might end up to be!"
In the middle of all of this material madness is Ricky's studio, where he creates his finer pieces of jewelry and pottery, which he sells at art shows throughout the year.
"I do get a lot of visitors, but the place is not open to the public. I have an open house once in a while to sell the jewelry, which can be described as eclectic and fun, and people respond well to it. People get to walk through the property. This woman left a message on my machine today saying 'I've got to come for my soul.' What do you say to that?"
Standing amongst all the half-finished projects and piles of miscellaneous (but organized) clutter, we asked the question: "Where do you get all this stuff from?"
"I'm constantly scouring the area. I put the word out if I need stuff. Like in the kitchen, I covered the walls with corks. I just asked if anyone had any corks! Now I've created a monster and I don't know what to do with all this stuff. They have a good dump here in the area. It's not like an urban dump, which I guess would be more interesting, but there's plenty of things to scavenge."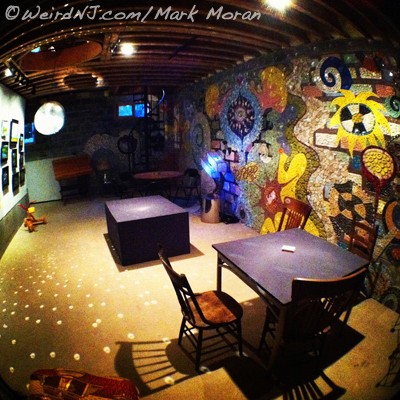 And scavenge he does, like many of New Jersey's visionaries who create a unique environment around themselves. We asked Ricky if he had a master plan, or message he's trying to convey with Luna Parc.
"My master plan is to not have a master plan, which keeps me open. It's all about 'layering.' I can take something down and improve on it, or move it around or add to it. There are no mistakes, that's the magic of it. Things will always change. People have this misconception of the end product. If it starts to deviate from the original idea, they get frustrated. That's the magic of creating stuff, that things do evolve."
So, how do you balance your work for hire and your work on your house, which takes priority?
"The house definitely takes priority. I'm very fortunate that the business is successful and takes care of everything. It gives me the freedom to do all this. I spend way too much time working on the property."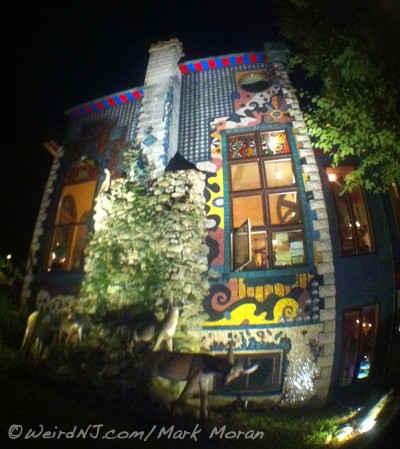 Inside the house, the art gets a little more intricate. Some rooms resemble a thrift store or museum, including collections of antique stringed instruments, taxidermied animals and strange religious artifacts. Ricky's artwork is omnipresent, giving the place a feeling of controlled chaos. The bathroom, complete with a toilet, bode, urinal and oversized tub, is tiled from floor to ceiling in a swirl or patterns and textures, with a stream of running water trickling down through pastel colored gravy boats. The house, which started as a small hunter's cabin, has grown into a vast labyrinth of stairways, hidden room and lookout towers, all decorated with Ricky's own visionary artwork. There are self-portraits and paintings of Ricky's friends on every wall. It is almost inconceivable that one man could produce such an extensive body of creative output in a single lifetime. We don't really have any idea how he does it, but we are very thankful for the fact that he does, and we are certain that he will continue to amuse and fascinate us well into the future.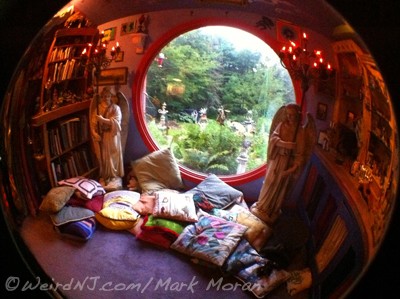 "I plan to live to be 100 and it's my intention to see that Luna Parc is secure and safe." Ricky told us. "I also plan to haunt the place after I die. I'm planning on building my mausoleum in the back."
Luna Parc is a private home not open to the public other than by invitation. If you'd like to take the cyber tour of the property, you can visit www.lunaparc.com.