Prehistoric Petroglyphs and Cryptic Carvings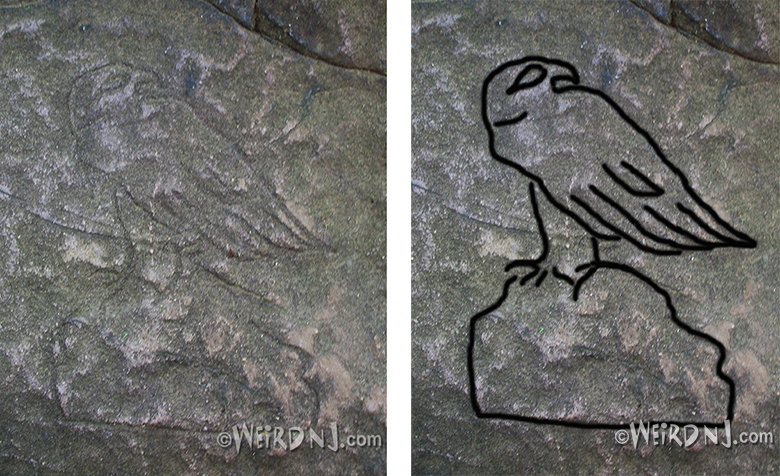 The Carved Rock of Little Falls
Located on the edge of a high bluff overlooking a deep wooded ravine in the town of Little Falls sits a large boulder above the Passaic River across from the Little Falls Dam. The rock, which weighs several tons, bears an artistic inscription, a petroglyph, the origins of which are a mystery. Carved into the stone is the well-rendered image of a bird, which resembles a hawk or falcon, perched upon a large stone.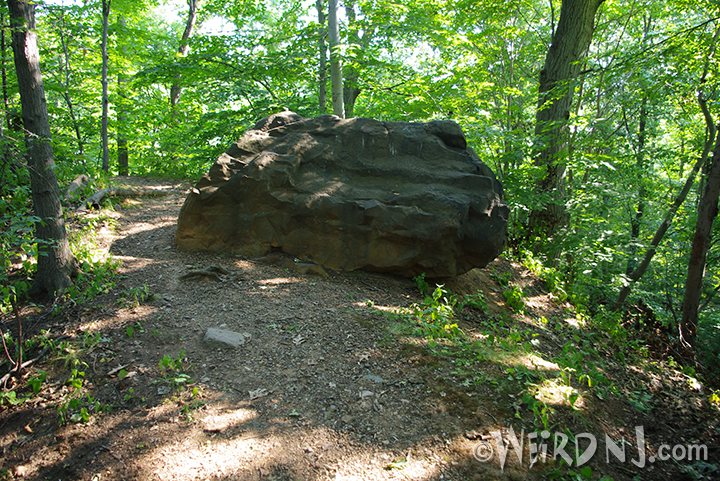 "They call it 'rock art.'" M'ke Helbing told us when he tipped Weird NJ off to this little-known site. "Some claim it's a real Native American etching, while others say it was done later by settlers." The boulder is located on a side trail off a paved path in the Morris Canal Preserve, which runs parallel to Main Street along the river where the Morris Canal once ran. There are no markers pointing the stone out as a point of interest or plaques posted that try to explain its existence. Most hikers stroll right by and never even notice the potentially ancient inscription on the stone.
This is not the only mysterious carved stone to be found along the Passaic River. There is another rock in the town of Garfield, just down river from the Dundee Dam that bears the engraved images of a bear paw, a fish and a phallus. This stone too has long been the subject of debate as to whether its inscriptions are of Native America origin or were carved sometime later. There is really no way of knowing for sure. Both sites however, Little Falls and Garfield, are known to have been favored fishing spots among local Indians, the Lenni Lanape tribe.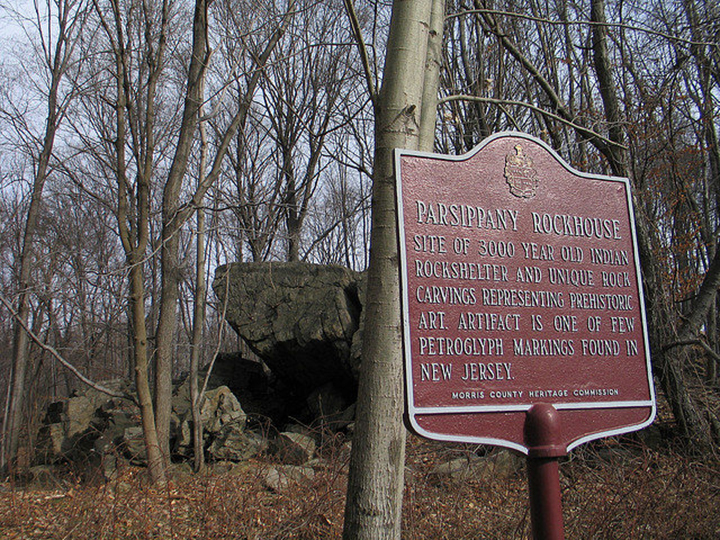 Parsippany Rockhouse
The Rock House, located in Parsippany, is located adjacent to someone's backyard on Dale Street. In 1973 there was a discovery of ancient Indian petroglyphs on the walls of this natural outcrop of bedrock. Deposited by glaciers over 10,000 years ago, the Rock House provided shelter for native Americans from 3000 to 1000 B.C., and then again during the middle Woodland period (500 A.D. to 1600 A.D.)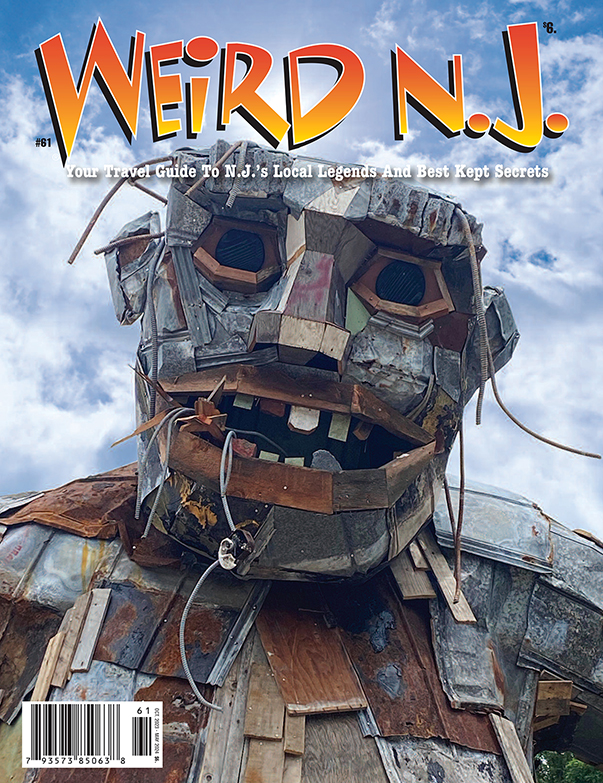 Archeologists that have been surveying the area and rocks claim that the Indians who lived here did not stay all year round, and have found a variety of stone tools and hunting implements. There was also evidence that the Indians butchered animals on the site, cooked them, then carried them off to other locations.
The petroglyphs seemed to have been carved into the granite with a sharp-pointed stone pick, but experts admit that they do not know what the symbols meant. The Morris County Heritage Commission reported in a brochure that the carvings were animals that indicated star patterns. One was a drawing of an animal with its mouth open, and two depressions for eyes. Below it are two other oval-like shapes that seemed to represent human faces.
Others are skeptical about the authenticity of the carvings, claiming that they could not have been made by local Len Lenape Indians, but pre-date the European discovery of America. There are no markers indicating where the petroglyphs are located, and many who visit this mysterious ancient rock dwelling have yet to find them, but many come to see if they can.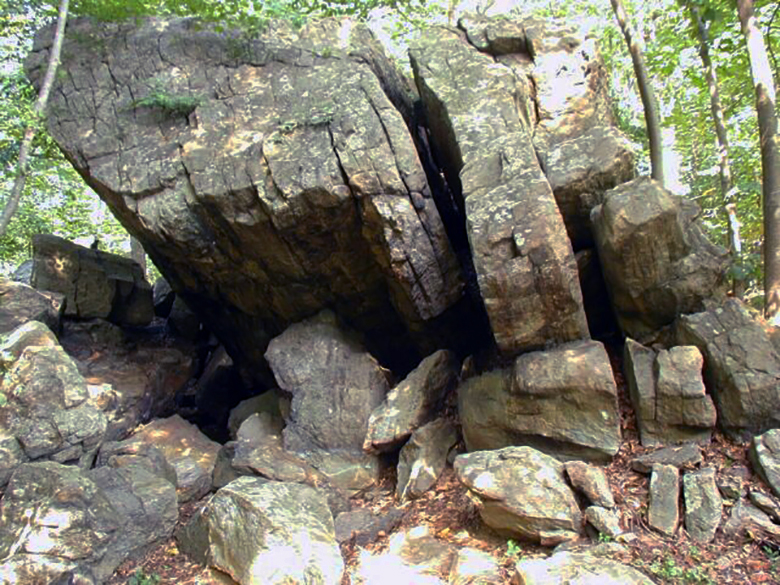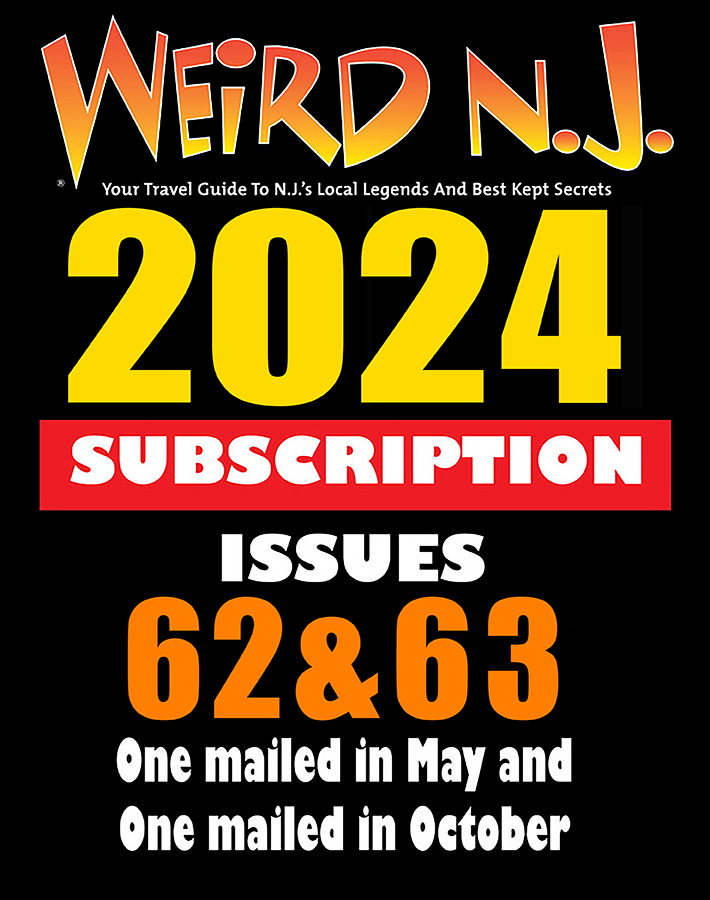 The preceding article is an excerpt from Weird NJ magazine, "Your Travel Guide to New Jersey's Local Legends and Best Kept Secrets," which is available on newsstands throughout the state and on the web at www.WeirdNJ.com.  All contents ©Weird NJ and may not be reproduced by any means without permission.
Visit our SHOP for all of your Weird NJ needs: Magazines, Books, Posters, Shirts, Patches, Stickers, Magnets, Air Fresheners. Show the world your Jersey pride some of our Jersey-centric goodies!

Now you can have all of your favorite Weird NJ icons on all kinds of cool new Weird Wear, Men's Wear, Women's Wear, Kids, Tee Shirts, Sweatshirts, Long Sleeve Tees, Hoodies, Tanks Tops,  Tie Dyes,  Hats, Mugs & Backpacks! All are available in all sizes and a variety of colors. Visit WEIRD NJ MERCH CENTRAL. Represent New Jersey!